Obi-Wan Finale - The Loop
Play Sound
Blightfang

Statistics

Species
Boulderback
Level
44 Prime
Health
122.2k
IAR
2
Reaction

D

E

Location
Malgrave
Status
Killable
Blightfang is a prime level 41 rare malverine found in Malgrave. He can be hard solo fight especially for cloth wearers. Blightfang casts multiple abilities in quick secession of one another making this a positional fight. Along with other mobs his type he has AoE telegraphs. Since most of Blightfang's attacks deal quite a bit of damage, dodging is the key to winning this fight. His abilities such as Super Spin Cycle and Double Leap Shift can also go out into caster range so be careful when kiting.
Abilites
Claw - (Melee)
Double Leap Shift - (Melee)
Savage Shred - (Melee)
Super Spin Cycle - (Spell)
Swipe - (Melee)
Vortex Surge - (Melee) 2.7sec cast
Location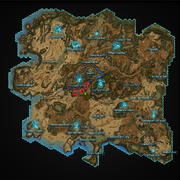 Blightfang can be found in Shardspire Canyon in either of these locations (1327,3316), (1454,3288), (1574,3136).
Achievement
Killing Blightfang is part of the I Like it Rare: Malgrave achievement.
Drops
Blightfang drops the following items:
External links