Cat Burglary is an Exile quest. It is obtained in Algoroc by speaking with Lulu Blackbush at the XAS Camp.
Description
Lulu Blackbush at the XAS camp has asked you to recover food taken by local wildlife. For some reason, the animals store the food in high places, so she's given you a rocket pack to reach those areas.
Objectives
Use the rocket pack to reach Stolen Food around

Rockridge Hollow
Notes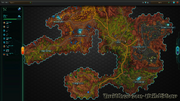 Even though the marker on the map shows the food being on top of a large rock formation, it's actually scattered all along the northern edge of Rockridge Hollow and is easily accessible by jumping or with pack with the "T" button.