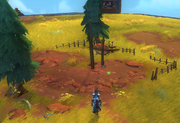 It is possible to plant seeds found on plant nodes across the world on your gardening spot on your house.
From a Pax East press video it was revealed that a user will be able to enable a friend to harvest their garden if they are unavailable. Jeremy Gaffney mentioned that the friend would receive a percentage of the harvest. At 8:46 Stephen Frost shows a 'gathering node' that is a plant mass (with a ancillary tie to Gardening). The loot pinata that is generated gives Spirovine and Spirovine seeds. Stephen then points out that the seeds are for planting back at your housing plot. So here we see gathering of Spirovine (usage unknown) and the Spirovine seeds that enable to create your own node of Spirovine for Gardening at your housing socket.
Gardening on Your Plot
Getting Started
On your land plot, press <Ctrl><F1> to open the Landscape Enhancements menu, select a small plot, and choose "Garden Tier 1". A tier 1 garden costs 1 gold, and is available to new plot owners. A tier 1 garden has six fertile ground nodes. A tier 1 garden is a unique, and so you may only have one at a time.
To gain more fertile ground nodes, obtain a Garden Tier 2 FABkit. In your Landscape Enhancements menu, select the plot containing your garden, choose "Upgrade Enhancement," and choose "Upgrade."
Planting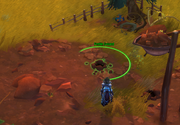 To see the time it will take a seed to grow, hover over a stack of seeds in your inventory.
To plant on your plot, click a "fertile ground" node, then right-click on a seed stack. One seed is planted per plot.
You may leave your plot while plants are growing.
Harvesting
Harvest your plants as you would in world.
Stages of Plant Growth
Sprouting
Adolescent
Normal
Overgrown - the plant is more likely to produce seeds when harvested. Unknown whether overgrown plots produce less fruit, but it is a good bet.