Protostar's Gala Winterfest Extravaganza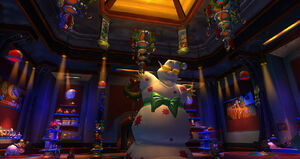 Protostar's Gala Winterfest Extravaganza is a seasonal event that runs from December 18th through January 1st. The event is inspired by Christmas.
Description
The Protostar Corporation is on Nexus in force to celebrate the true reason for the season: CONSUMERISM! Buy things, help Protostar sell things, and don't let the war on Winterfest undermine what really matters, and that's money. This greatest of all the materialistic holidays will send players on adventures throughout Nexus, culminating in an instance where players from levels 10-50 can teleport to the big shopping spree in the sky—the SuperMall-in-the-Sky to be exact. Get scaled up to max level and rampage through its shops, but try to escape before succumbing to the many overzealous salesclones!
Quests
Public events
Challenges