Spellslinger
Spellslinger

Statistics

Roles:
Ranged DPS, Healer
Equipment
Dual Pistols
Armor Type
Light Armor
Resource
Spell Surges
Focus
Stats
Crit (DPS)
Crit (Healing)

Available Races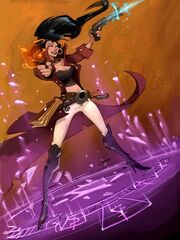 Spellslingers are deadly and dangerous pistoleers, often found beyond the Fringe working as bounty hunters, bodyguards, and guns-for-hire.
Spellslingers fight with a unique style that's a lethal combination of magic, reflexes and instinct - making them some of the most feared combatants in the galaxy. By wielding specially designed mag pistols, Spellslingers manipulate arcane energy to create powerful magic sigils – greatly increasing their accuracy and infusing their projectiles with destructive power.
Along with their deadly weapons, Spellslingers also use acrobatic agility to quickly move around the battlefield - positioning themselves to inflict the most damage upon their enemies. These deadly abilities, coupled with steely-eyed resolve, make the Spellslinger a truly frightening foe in battle.

All Spellslingers have a primal form of energy called Spell Power they can draw on to power up their abilities. Toggle Spell Surge to use it by pressing ("R"), and don't be shy about it! This resource regenerates over time.
Primary attributes

Attributes importance:
DPS build: Strikethrough to cap > crit to 25% > crit severity and vigor
Support build: Focus pool to 1900, focus regen to 1.5%, crit
AMPs
Abilities
Builds
Videos
External links