Stonegut

Statistics

Species
Boulderback
Level
41 Prime
Health
125.9k
IAR
2
Reaction

D

E

Location
Malgrave
Status
Killable
Stonegut is a prime rare boulderback found in two locations in Malgrave. Once he enters combat, it takes him quite some time before he can dig himself out of the ground. During this time Stonegut is fully attackable and won't cast any abilities or attack players. He casts instant telegraphs which are easy to avoid by moving in a circle around him.
Abilities
Gore - (Melee)
Impale - (Melee)
Loftite Shards - (Spell)
Noxious Fumes - (Spell)
Quake Drop - (Melee) 1.5sec cast
Location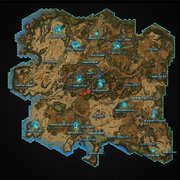 Stonegut can be found at (1636,3282) and (1469,3356) Which is in between Shardspire Canyon and Scourwind Peak.
Achievement
Killing Stonegut is part of the I Like it Rare: Malgrave achievement.
Drops
Stonegut drops the following items:
External links